News
20.10.2021
Electrofishing on river Lafnitz
Monitoring of fish stocks in different stretches on the river Lafnitz. The unique morphology of the river makes fishing a challenge.
14.10.2021
Forum "Illmitzer Gespräche"
No reason for optimism;
no time for pessimism:
Act now! (Renate Hammer – Organisation)
From October 14th to 16th, an "interdisciplinary, independent, clear, distinct and at a high level, critically and reflected discourse about true sustainability" takes place in the Seewinkel.
Our managing director Georg Wolfram is also part of the top-class group of speakers. 
11.10.2021
End of mowing-season 2021
06.10.2021
Autumnal Sampling
26.08.2021
5 years of EUWI+
Over the last five years we supported as part of the project European Union Water Initiative Plus (EUWI+) the six Eastern Partnership countries Armenia, Azerbaijan, Belarus, Georgia, the Republic of Moldova and Ukraine to come a big step closer to implementing the European Water Framework Directive. A team of international experts – including us – helped in achieving milestones in water policy and water quality monitoring. We played a major role in the fields of biological assessment and biological monitoring. This summer the project came successfully to an end 🙂 More information regarding water management plans, monitoring expansion, stakeholder events and workshops can be found here: www.euwipluseast.eu
17.08.2021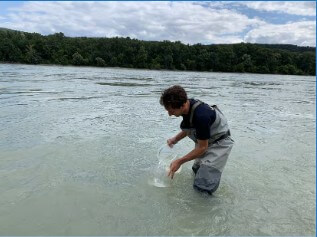 Joint Danube Survey 4 goes public
The publication of JDS 4 – the world's most comprehensive study of a large river – deserves our attention, naturally!
What is not mentioned on noe.orf.at [ger]: We were also involved in the investigations!
The public report offers an entertaining overview of the results, including a picture of Ulli.
If you are into the details, we recommend the 565 pages of the scientific report.
Happy Reading 😉
24.06.2021
Exchange of aquatic plants in the Old Danube
18.06.2021
The fishing season has started
Two weeks ago we succesfully started this year's fishing season with blue sky and sunshine. We are looking forward to many more fishing days in the coming weeks and are full of motivation! 🐟
07.05.2021
Spawning brushes in the Wienfluss
On behalf of the Stadt Wien – MA45 Wiener Gewässer we installed so-called "spawning brushes" in the Wienfluss, for fish that need aquatic plants for spawning such as rudd, roach or carp! Fish migrating from Donaukanal to the Wienfluss hardly find any aquatic vegetation to spawn from the river mouth to Stadtpark, therefore we provide remedy with the spawning brushes. We are fully confident that the fish will accept them and are looking forward to the first spawning observations 🙂
23.04.2021
"Hunting for small animals with heavy machinery"